Battle of the Flockey 240th Anniversary Encampment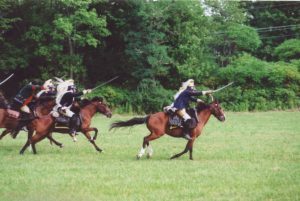 Join us for an educational Revolutionary War encampment recognizing the 240th Anniversary of the 1777 Tory Uprisings and Battle of the Flockey. This is a family friendly demonstrating encampment of the 2nd Continental Light Dragoons. This is not a battle reenactment but will feature tactical exercises.
The program is free and participation by the public is encouraged. The Old Stone Fort Museum Complex is located in the village of Schoharie at 145 Fort Road, off NY State Rt.30, 2.5 miles south of Interstate 88 Exit 23.   The museum is open daily from 10 a.m. to 5 p.m. and from Noon to 5 p.m. on Sundays.  For more information, contact the museum at (518) 295-7192.