It's old, it's stone and it's a fort – and it's so much more!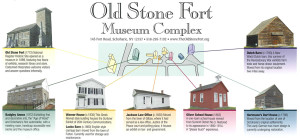 Click to enlarge Map of the Museum Complex
The Old Stone Fort Museum Complex presents three centuries of rural New York life in and among eight historic and exhibit buildings on 25 acres in the scenic Schoharie Valley.
National Register Historic Site opened as a museum in 1889, featuring two floors of exhibits, research library and store. Costumed interpreters welcome visitors and answer questions informally.
Badgley Annex (1972)
Exhibiting fine and decorative arts, the "Age of Wood" and Schoharie's first automobile; with a meeting room, handicap accessible rest rooms and the museum office.
Warner House (c. 1830)
This Greek Revival style building houses the Scribner Exhibit of the 20th Century Communications
Lacko Barn (c. 1860)
English style carriage barn moved from the town of Fulton. Currently used for storage and maintenance.
Jackson Law Office (c. 1830)
Moved from the town of Gilboa, where it had served as a law office, Justice of the Peace court and polling place, it houses an exhibit on law and government.
Oliver School House (1863)
A one-room schoolhouse moved from Summit District No. 3. Restore to its appearance in 1890-1914.  A "please-touch" experience.
Hartmann's Dorf House (c. 1786)
Moved from the location of one of Schoharie's original settlements. This early German two-room design is currently undergoing restoration.
Dutch Barn (c. 1780)
A New World Dutch barn, this survivor of the Revolutionary War exhibits farm tools and horse-drawn equipment. Moved from its original location two miles away.