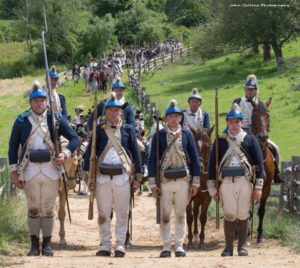 Follow the cavalry's charge to the Old Stone Fort Museum, on Saturday and Sunday, Oct. 7 and 8, for Stone Fort Days, featuring a weekend full of immersive, family friendly, living history re-enactments and activities. 2017 features a special 240th Anniversary commemoration of the 1777 Tory Uprising and Battle of the Flockey.
Activities throughout the Columbus Day weekend event will highlight all aspects of life in the Schoharie Valley during the American Revolution. Hands-on workshops and programs provide the opportunity for visitors to roll up their sleeves and get in on the action, which helps bring the history of the New York frontier to life.
"In addition to military skirmishes and full-scale, narrated battle re-enactments, there will be programs on colonial-era social life, medicine, music, the Iroquois, crafts, trades, toys and games," said Old Stone Fort Museum Director Carle Kopecky. "There will even be opportunities to make your own 'sewing housewife' or hand dip candles to take home."
Highlights of the event will include a discussion and book signings with noted author and historian, Gavin Watt.  His insight will provide event goers with a unique loyalist, or "Tory", perspective of life during the American Revolution. The Battle of Norman's Kill will be re-enacted and members of the Second Regiment, Light Dragoons, Tallmadge's Troop will re-enact of the Battle of the Flockey cavalry charge.
An important milestone in American History, the battle marks the US cavalry's first documented charge, as a troop of the 2nd Continental Light Dragoons charged on ambushing Loyalist Americans and Mohawks. The cavalry charge, supported by rangers and militia under Colonels John Harper and Peter Vrooman, was a significant American victory as the Loyalists were scattered into the rainy, wooded hillside and forced to abandon their Schoharie Valley homes.  This ignited a kind of civil war, with former neighbors and even family members fighting one another for the next five years.
In addition to viewing narrated battle re-enactments on both days of the event, visitors will also be able to witness numerous educational demonstrations, drills and military exercises, tour the British and American camps, get a look inside the tents, view a variety of historical vignettes, see artisans and merchants at work in their trades, listen to period music and get a taste of both colonial food and modern fare and refreshments.
Stone Fort Days will be held from 10 a.m. to 5 p.m. on Saturday, Oct. 7 and from 12 noon to 5 p.m. on Sunday Oct. 8. Admission to the event is $10 for both days and includes admission to the entire museum complex. Anyone under the age of 18 is free with adult supervision.